WELCOME TO PAWEL LISOWSKI RESEARCH WEBSITE

We are supported by: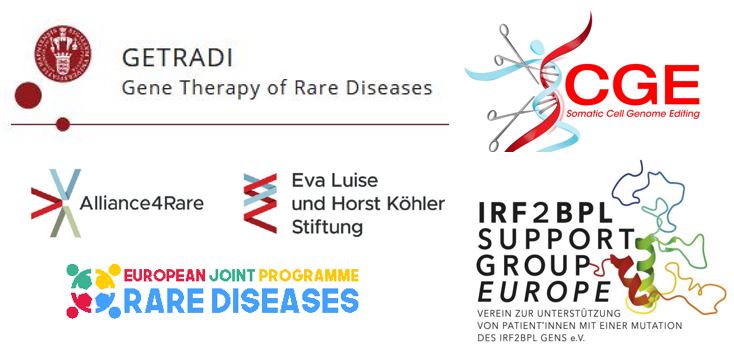 FUNCTIONALGENOMICS.PL IS FEARLESS RESEARCH INITIATIVE COMMITED TO CUTTING EDGE SCIENCE FOR LIFELONG CURE OF PATIENTS SUFFERING FROM RARE NEURODEGENERATIVE AND NEURODEVELOPMENTAL DISEASES. THE MISSION OF FUNCTIONALGENOMICS.PL IS TO PROVIDE ONE-TIME NEXT GENERATION GENE THERAPIES THROUGHOUT:
DEVELOPMENT OF SAFE, PRECISE AND EFFICIENT POST MITOTIC NEURONAL CELL TYPE SPECIFIC GENE EDITING TOOLS

IN VIVO DELIVERY OF THERAPEUTIC GENE EDITING TECHNOLOGY INTO THE PATIENT CENTRAL NERVOUS SYSTEM

APPLICATION OF 3D PATIENT DERIVED BRAIN ORGANOIDS DRIVEN BY AI MACHINE LEARNING TO SUPPORT TREATMENT DECISIONS IN THE CONTEXT OF (1) HIGH THROUGHPUT PHENOTYPIC SCREENING, (2) GENE EDITING/GENE THERAPY TOOLBOX EVALUATION, AND (3) DRUG REPURPOSING FOR PERSONALIZED MEDICINE.
Functionalgenomics.pl with headquarter in Berlin, Germany operates within estabilished United States scientific and technological network under research collaboration agreements with following partners: Center for Gene Therapy, Nationwide Children's Hospital, Columbus; Mayo Clinic Jacksonville; University Of California San Diego (UCSD); Salk Institute, La Jolla; Sanford Health Sieux Falls; Nemours Children's Hospital Wilmington.
The European network for clinical study includes: Helmholtz Zentrum München; University Medical Center Utrecht; Universitätsmedizin Göttingen; Universität Düsseldorf Faculty of Medicine of the Heinrich-Heine-Universität; MSH Medical School Hamburg; Københavns Universitet.
Models: In paralel we develop largest NEDAMSS patients specific induced pluripotent stem cell (iPSCs) lines repository carrying genetic variants of IRF2BPL gene including they corrected isogenic iPSC controls and isogennic embryonic stem cell (ESCs) controls with variants introductions. Patients derived iPSCs are generated from skin punch biopsies and peripheral blood mononuclear cells (PBMCs) from ~50 functionalgenomics.pl participants  Details about the sources of the new and existing lines and the types of variants (missens, nonsens, frameshift) can be found under request. Furthemore we generate reporter stem cell lines, neuronal precursors (NPCs), 2D neurons and 3D brain organoids, derived from iPSCs and ESCs for precise stem cell based disease modeling, high content drug screening, drug repurposing and for testing patient tailored gene editing toolbox.
The running projects are aimed to:
Diagnostics and decoding of undiagnosed, rare and ultra rare neurodevelopmental diseases
We investigate the molecular mechanisms of diseases with the special focus on neurodevelopmental, neurological and neuropsychiatric disorders starting with clinical WES suplemented with WGS and extensive functional genomics (long and short reads RNAseq, scRNAseq, spatial transcriptomics). To get insight into molecular mechanisms of particular disease and to prioritize risk variants especially for undiagnosed disorders we apply stem cell based disease modeling and differentiation of the stem cell along neuronal lineage into neurons of interest and brain organoids to study neurodevelopmental processes in details under unique patient-specific genetic background.
Genome engineering technology development
Diseases are caused by changes to the genetic code. Genome engineering technology presents prospect for decoding and treatment for diseases under investigation. We focus on genome engineering technology development of patient specific stem and neuronal cell types to perform effective and safe genome editing in patients including somatic cell genome editing of the post mitotic neuron. These research tools are based on designer nucleases technologies such as Cas nucleases, base editors, prime editors including development of homology independent sequence replacement for correction of the broader spectrum of causative mutations while affecting one gene or for targeting of large mutations. Technology is being developed to be available as a one-time somatic gene therapy.
Due to the complex nature of the diseases being investigated for more information about the research study and patients recruitment process please contact  > Dr. Pawel Lisowski
RECENT SPECIFIC CLINICAL AND PRE-CLINICAL STUDY AIMS:
Dear Parents and Relatives of children with IRF2BPL (Interferon Regulatory Factor 2 Binding Protein Like) – related disorders (NEDAMSS):
You could find this website because your child has been diagnosed with the group of ultra-rare genetic diseases called NEDAMSS (Neurodevelopmental disorder with regression, abnormal movements, loss of speech, and seizures). IRF2BPL – related disorders are progressive. The symptoms get worse over time. Non symptomatic people with these disorders at some point during their life span starting to loose the ability to walk, talk, and eat. Over time, they require placement of a tube into the stomach to aid with feeding as well as a mechanical respirator to help them breath. 
The symptoms are related to the broad spectrum of mutations in the IRF2BPL gene. The protein made by this gene is found in many different organs, including the brain. It is unclear how the protein made by this gene works in the body and why changes in the gene result in these disorders. The IRF2BPL may be involved in the regulation of other genes since IRF2BPL contains a special polyglutamine (polyQ) and polyalanine (polyA) tracts and such peptides are pan-transcriptional regulators and are present in various forms of neurodegenerative diseases. IRF2BPL mutations result in a short non-working protein (nonsense mutations) and frame-shift mutations. Contribution of the type of varint in disease progress is still under investigation.

Because the long-term outlook for people with these disorders is unclear and during our work on undiagnosed disorders we discovered first patients with IRF2BPL related diseases – recently we have started intensive research on IRF2BPL. Therefore, you can participate in our collaborative network of IRF2BPL research by donating the patients' cells. For basic information about our IRF2BPL.DE research initiative please visit  https://irf2bpl.de/. For cells donation methods and procedures please contact Dr. Pawel Lisowski directly.
PS: RARE DISEASES ARE NOT RARE.